A Tale of Two Container Image Tools: Skopeo and Crane
Working with container images is pretty much a fact of life in modern day infrastructure, especially with Kubernetes. Make your life easier by using tools such as skopeo and crane.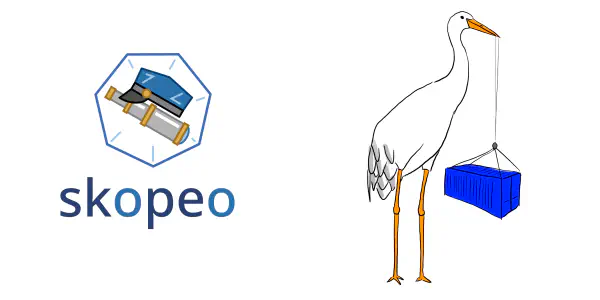 All software that you deploy on Kubernetes requires packaging as container images. There are many tools to build container images (e.g. Docker, buildah, etc). Once the images are built, they are pushed to an image registry, and referenced in pod descriptors (generally inside higher level abstractions such as Deployments, Daemonsets, StatefulSets, etc) which describe how to launch the software you want to run. The kubelet launches your pods and containers via the container runtime interface (CRI), which pulls the container images from the relevant registry, configures the pods and containers as requested, and starts them running.
What Is a Container Image?
A container image is a self-contained, executable bundle that contains everything required to run a piece of software in a well-defined runtime environment. The bundle contains one or more tar archives, plus a JSON manifest file that describes the software contained in the bundle and how to run it (e.g. what command to run to start the software).
Let's jump straight in using one of the tools we're going to talk about, crane, and see what an image looks like by inspecting the manifest directly from a registry:
Note that neither crane nor skopeo require a running container runtime - they interact with registries via the well-defined APIs (see OCI Distribution Spec for more details).
If we look at the manifest above, we see the following fields:
mediaType This tells the container runtime the format of this manifest. In this case (and still used by the majority of images at this time), this is application/vnd.docker.distribution.manifest.v2+json, which means it represents Docker Image Manifest V2. Note that an equivalent OCI spec exists and would use the media type of application/vnd.oci.image.manifest.v1+json.
config This holds a reference to the config layer of the image (we'll look at that below).
layers This holds references to the tarballs that make up the container filesystem. Container filesystems are constructed from layered tarballs. If you're familiar with Dockerfile used for building images, each instruction in the Dockerfile produces a new layer containing only the changed files from the layer below. In this case, the image only has a single layer, but it is very common for images to contain many layers.
Let's take a look at the config layer of the image:
This contains all the details describing how to run a container from this image. Notably:
os and arch What OS and architecture this image is built for
config Details how to run a container from this image, specifically see Entrypoint and Cmd which detail the default command(s) to execute when running a container from this image.
And let's look at the layer that was referenced in the manifest above:
The output of the command above just shows the last few lines, but from that you can see that the referenced layer is literally just a gzipped tarball of a filesystem. Super simple!
We've just used one of the tools, crane, to inspect images directly from the registry with no container runtime locally!
Cookbook
Let's now show some of the operations that both skopeo and crane support when using the tools as CLIs.
Moving Images Between Registries
It is very common to move images between registries, whether that is because your clusters are running in air-gapped (i.e. disconnected) environments, to promote images between dev/test/staging/production registries, etc. If you're using an OCI registry such as Harbor then you can do this via replication, but if not, or if you just want to ad-hoc copying of images, then both crane and skopeo are really useful.
If you want to follow along, first we'll create a temporary registry locally (you'll need a container runtime, we'll use Docker) so we can use that for this demo:
We can use crane to check the registry is working:
Nothing will be returned as this is an empty registry. Now let's copy an image to our registry. With crane we can use:
Note that this copies all OS and architectures of the specified image if it is a multi-platform image. To only copy a single platform (very useful in testing):
To do the same with skopeo, we need to use a slightly different image reference:
While the format for the skopeo command is a bit more involved, skopeo uses the scheme (docker:// in the case above) to support multiple source and destination formats. Take a look at the skopeo README for details.
Also note that skopeo by default will act on the image matching the OS/architecture of the host you're running skopeo on, whereas crane defaults to all platforms specified in the multi-arch image manifest (image index). To copy all architectures for an image with skopeo, specify the --all flag.
Delete an Image From a Registry
This is especially useful during CI runs, to clean up temporary image builds from registries, or to clean up after failed releases (yes, it does happen!).
Unfortunately registry:2 (the Docker registry image) only supports deleting via digest rather than tag, so this command is a bit more complicated:
Note that this just deletes the root manifest. The actual filesystem layers are not deleted, but cannot be referenced via tag any longer. This is generally OK as it prevents accidental use of an invalid tagged image, but if you wan to delete all referenced digests you can script around that via something like:
Depending on configuration, the registry would likely prune unreferenced blobs asnchronously to free up storage.
To delete an image with skopeo, run:
skopeo handles the registry's lack of delete-by-tag support nicely by transparently sending the delete request with the required digest.
List Images and Tags in a Registry
To list images present in a registry, use crane (this is not supported by skopeo):
Listing tags available in a repository is equally simple with both tools:
Pull an Image to a Tarball
This is similar to docker image pull, but rather than pulling to cotainer runtime image storage, copies an image to a tarball.
Push From a Tarball to a Registry
This is similar to docker image push, but uses a tarball as source rather than container runtime image storage.
The Winning Feature (For Me at Least…)
While both skopeo and crane are great tools when used as CLI tools, skopeo cannot be used as a library (although there are lower level libraries in the https://github.com/containers GitHub org). crane on the other hand is very usable as a library, which as the creator of mindthegap (a tool to move image bundles specifically targeted for air-gapped use-cases) is a winning feature. Check out the awesome godocs for crane.
Summary
Both crane and skopeo are Swiss army knives for working with image registries. This post covers some of the more common use cases, but both crane and skopeo support many more operations. However, as crane can be used as a library as well as a CLI, it is my go-to tool.